SOUTH LAKES
IDYLLIC WITH A TOUCH OF RUGGED GRANDEUR
Here you will find many slate and stone houses over 400 years old nestled together all crooked yet cosy in their place below the picturesque mountain skyline. Smoke rises from the cottage chimneys, open fire scents fill the air, why not take a step back in time by visiting Beatrix Potters home, Hill Top?
Hawkshead village oozes the feel of quaint village life, with the added bonus of museums, pubs and homely cafes. Nearby you have a connecting vehicle ferry from Bowness-On-Windermere, along with Grizedale forest park that has over 6,000 acres of forest with mountain bike trails, art sculptures, and Go-Ape.
Coniston sits on the lake shore. An attractive favourite among fellow hikers, it rests below the huge rocky mountain, Coniston Old Man, said to translate from Old Norse meaning "the high mine", as it is riddled with a maze of copper mines that venture deep into the earth. Ulverston Town lies just south of Coniston, a true hidden gem, popular for local festivals, live music, and local produce. Here in the South Lakes immerse yourself in the riches of local life and mountain magic all in one place.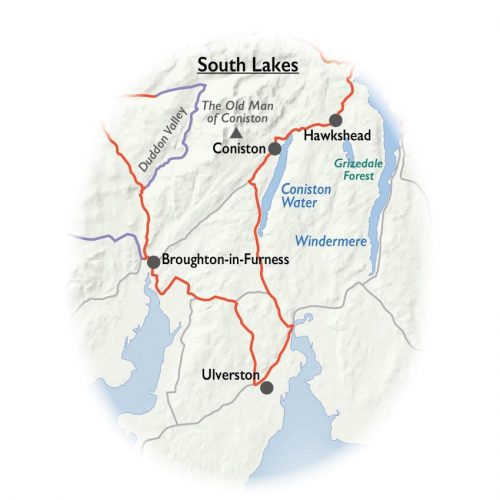 {{current_weather.dt | momentjs( atts.date )}}
{{current_weather.temp | temp}} °{{units}}
{{day.dt | momentjs(atts.date)}}
{{day.temp | temp}} °{{day.temp_min | temp}} °{{units}}
{{current_weather.temp | temp}} °
Humidity: {{current_weather.humidity}}%
Clouds: {{current_weather.clouds}}%
Wind ({{current_weather.wind.deg}}): {{current_weather.wind.speed}}{{units_wind}}
{{current_weather.desc}}
{{day.dt | momentjs(atts.date)}}
{{day.temp | temp}}°
{{day.temp_min | temp}} °