WEST LAKES
WHERE THE MOUNTAINS MEET THE OCEAN
Venture off the beaten track and find forgotten traditional coastal fishing towns like that of Whitehaven. With its huge stone harbour, rich in local history, discover all about its tobacco, spice, rum trade at the local Rum Story & Beacon museum. Walk along towering coastal cliffs to secret bays and seaside villages like St Bees. Stumble upon the Lake District's most remote Lake of Ennerdale.
This is the Wild West of the north, popular among those seeking out wilder places with its dramatic scenery and secluded woodlands. Feast your eyes upon England's highest mountain in all its splendour, visit England's smallest church and why not take a dip in its deepest lake at Wasdale?
The idyllic Eskdale & Duddon valleys have an unspoiled atmosphere to them. See hill farmers tend their flocks, swim in crystal clear rivers that flow coherently twisting and turning towards the coast where you will find the beautiful little villages of Broughton-In-Furness and Ravenglass, where Romans left their mark to this day. The mighty Muncaster castle stands proudly overlooking the mouth of the unspoilt Eskdale valley. The West is an undiscovered paradise with a wealth of hidden gems around each corner for you to explore.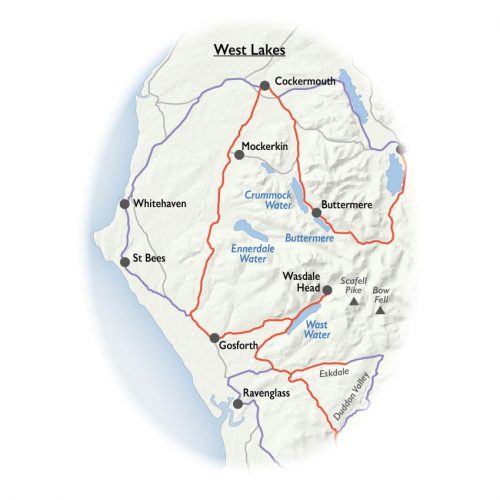 {{current_weather.dt | momentjs( atts.date )}}
{{current_weather.temp | temp}} °{{units}}
{{day.dt | momentjs(atts.date)}}
{{day.temp | temp}} °{{day.temp_min | temp}} °{{units}}
{{current_weather.temp | temp}} °
Humidity: {{current_weather.humidity}}%
Clouds: {{current_weather.clouds}}%
Wind ({{current_weather.wind.deg}}): {{current_weather.wind.speed}}{{units_wind}}
{{current_weather.desc}}
{{day.dt | momentjs(atts.date)}}
{{day.temp | temp}}°
{{day.temp_min | temp}} °